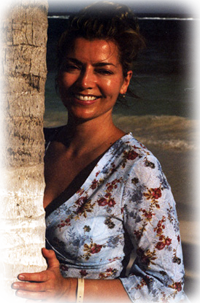 Wendy was born to sing - and like a bird, she came by it naturally.
Surrounded by three musical older sisters it's no wonder that she began singing melodies at the age of seventeen months. By age three, she landed her first stage role as Gretl Von Trapp (see gallery) in a production of The Sound of Music.
Wendy's early melodies expanded to harmonies and during the next twenty years she performed with her sisters (see gallery images). Their collective blend and tight harmonies impressed audiences everywhere they appeared. Their first concert tour to Mexico was such a success that they were invited back to Puerto Vallarta and a second concert was added in Guadalajara. Other career highlights included touring and recording with a big band and legendary 40's vocal artists Johnny Desmond (Gene Krupa, Glenn Miller), Tex Beneke (Glenn Miller) and Helen O'Connell (Jimmy Dorsey). They also had the opportunity to work with the distinguished Brazilian pianist/composer Manfredo Fest (Sergio Mendes, Antonio Carlos Jobim).
All four sisters were required to study piano and learn music theory as their style of close harmonies required extreme precision. They studied music and voice with highly regarded mentors; Dr. John Zdechlik, Dr. Leon Thurman and the Grammy nominated vocal arranger Phil Mattson.
Along with Wendy's work harmonizing with her sisters, she also devoted herself to finding her own voice as a soloist and as an individual. She performed with big bands over the next several years and also worked steadily with trios and smaller ensembles.
When Wendy discovered the world of studio recording, she was hooked. After two decades in front of audiences she chose to focus on making music behind the scenes. Accomplished in both studio and stage techniques, Wendy's versatility as a singer allows her to express herself in very distinct, yet similar, surroundings. The common thread is her voice; a voice that can make the strange seem familiar and the familiar seem out of the ordinary.
Wendy's other musical influences run the gamut from Rachmaninoff to Earth, Wind & Fire. Wendy loves to sing jazz and soul yet feels equally at home with Latin, blues, pop and classical. She possesses the vocal skills and the style-sense to cover it all.
After sitting in recently with a few of her favorite musicians at local jazz clubs, Wendy realized that although she'd always love being in the studio, she missed the spontaneous interaction with players in the live setting.
Fortunately for music lovers and ardent listeners she's presenting her live voice again with an inspired and renewed view of her art.
Always a gypsy at heart, Wendy has lived from Minnesota to Washington State, La Jolla, California to the south of Cancun, Mexico, and near 10,000 lakes to a sailboat on one Caribbean Ocean. She's embarking on a new journey in her life by combining her love of music with her passion for travel. Catch her while you can at her upcoming gigs, this free spirit and her worldwide voice are destined for a number of far-off exotic locations around the big blue sphere.